Before we can really take effective care of ourselves, we need to understand our intrinsic nature and how it seeks to express freely in our lives.
The process coaching examines our expression and cultivates the behaviors that help us heal and flourish, and reduce the behaviors that diminish our well-being. Making changes takes time, courage and a readiness to begin. Often there are motivating factors that cause us to explore our lives, physical social or economic challenges which insist we pay attention and do things differently.
When we are at our most vulnerable, the specific training of a coach is vital to the safe and effective process of behavior change . Duke Integrative Medicine developed the gold standard in Integrative Health Coaching and its certification process is vigorous. I have been coaching since 2011 and received my certification in 2013 and have coached hundreds of clients.  I am confident in my service to those who recognize change is needed and consider it an honor to partner with individuals on this journey of personal inquiry.
I provide two approaches to coaching.
Integrative Health Coaching
As a Duke Certified Integrative Health Coach I provide personalized health planning and coaching around 8 domains of self-care to help cultivate healthy behaviors to improve your life.  I use the Duke Wheel of Health, a research-based process model, and guide clients' own inquiry into their vision and values for a healthier lifestyle. We move onto to focusing on one of 8 domains: mind body connection, spirituality, nutrition, rest and exercise, relationships and communication, professional development, and physical environment.
Dosha Coaching
This dynamic approach to health and healing blends my Duke Certification with my expert training and passion for yoga, ayurveda, meditation, and addiction recovery. Dosha Coaching supports individuals in understanding the elements of health, the behaviors that nourish, protect and preserve well-being, and incorporates the scientific discoveries in neuroplasticity – the ability of the brain to transform. The twin sciences of Ayurveda and Yoga provide the philosophical framework and daily practices to balance your lifestyle with your constitution (known as our Vrikriti and Prakriti Doshic expression).
I also provide study courses in Yoga and Ayurveda.
Coaching packages…
Complimentary 20-minute sample coaching session
Introductory coaching package, three 45-minute sessions: $149
8 coaching sessions: $650 / 16 coaching session: $1,250
Coaching Retainment: Clients after completing a series of coaching, find it helpful to retain my coaching services on an as-needed basis. Fees for this service are arranged on an individual basis.
Integrative Health Coaching at Sands Point Preserve
The Four Seasons of Wellness program at Sands Point Preserve is a custom series of four retreats and four health education group coaching sessions designed to enhance health by improving self-knowledge and care.

Based upon the Duke Wheel of Health, developed by the Duke Integrative Medicine  health and wellness program.
Register for the first of four health education and group coaching programs:     four-seasons-of-wellness-registration-form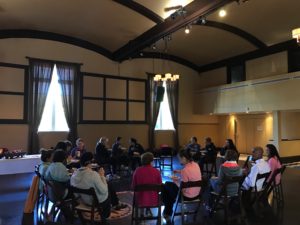 More Retreats to be announced soon….