I have asked myself and my clients this question for years.  The answers continually evolve with self-knowledge and effort.  I am motivated by the wisdom of Ralph Waldo Emerson, Health is our first wealth, and guided by Ayurveda and Yoga, the twin healing sciences.   This website describes the programs and services I offer to assist individuals in cultivating their best expression of health and well being.  For a consultation contact me, I'd be delighted to hear from you. 
Professional Services 
Integrative Health Coaching: partnering with individuals to efficiently sustain self-care practices that bring their best health to life.

       

Dosha Coaching:  a unique approach to wholesome health that combines the ancient sciences of Ayurveda and Yoga with the neuroscience of behavior.   
Private Yoga & Meditation: Whole health practices customed for individuals and small groups.
Ayurveda and Yoga Study Groups: An eight-class curriculum designed to instruct individuals in meditation, yoga, breathing techniques and food choices that support their health and lifestyle.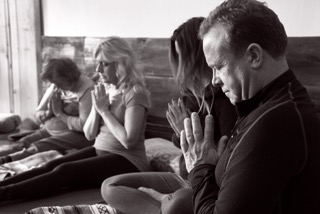 MINDFULLNESS                                compassion in action                    as the universal laws of energy, matter, and spirit                       express effortlessly.                                                                                            
My Education and Training                                                                                           
Benson Henry Institute, Resilient Youth Training, 2017
California College of Ayurveda, Ayurvedic Health Counselor, 2018
Duke Integrative Medicine, Leading Others in Writing for Health, 2017   
ISHTA Yoga,  Master Yoga Teacher Training, 2016
ISHTA Yoga, Yoga Nidra Certification, 2015 
Duke Integrative Medicine, N.C.  Professional Integrative Health Coach Certification, 2014 
ISHTA Yoga, 500-HR, 2009
Sanctuary of Peace and Harmony, Interfaith Ministry Ordination, 2005 
Shamanic Training with Sharon Turner, 1999-2003 
National Council on Alcoholism: Alcoholism Counselor Training, 1985
Prevention Research Institute, Prevention Specialist, 1985   
Fairfield University, M.S. Economics, 1981