I am inspired personally and professionally every day by Ralph Waldo Emerson's words,  Health is our first wealth.  And while its meaning is unique to everyone, a common denominator of health is how we care for and about ourselves. I have a knack for creating effective, efficient and engaging self-care programs that keep myself and my clients motivated. Let's face it, unless we want it, really want it, health will decay with the stressors in our lives.  My work is to inspire you to want your health and co-create a plan to get after it — we've all got a lot of good living to do.  For a consultation contact me, I'd be delighted to hear from you. 
Professional Services 
Integrative Health Coaching: partnering with individuals to efficiently sustain self-care practices that bring their best health to life.

       

Dosha Coaching:  a unique approach to wholesome health that combines the ancient sciences of Ayurveda and Yoga with the neuroscience of behavior.   
Private Yoga & Meditation: Whole health practices customed for individuals and small groups.
Ayurveda and Yoga Study Groups: An eight-class curriculum designed to instruct individuals in meditation, yoga, breathing techniques and food choices that support their health and lifestyle.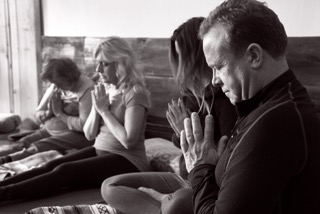 My Education and Training                                                                                      
Benson Henry Institute, Resilient Youth Training, 2017
California College of Ayurveda, Ayurvedic Health Counselor, 2017
Duke Integrative Medicine, Leading Others in Writing for Health, 2017  
ISHTA Yoga,  Master Yoga Teacher Training, 2016
ISHTA Yoga, Yoga Nidra Certification, 2015 
Duke Integrative Medicine, N.C.  Professional Integrative Health Coach Certification, 2014 
ISHTA Yoga, 500-HR, 2009
Sanctuary of Peace and Harmony, Interfaith Ministry Ordination, 2005 
Shamanic Training with Sharon Turner, 1999-2003 
National Council on Alcoholism: Addiction Counselor Training, 1985
Prevention Research Institute, Prevention Specialist, 1985   
Fairfield University, M.S. Economics, 1981